This article will show you all the details about how FlexiSPY measures and tests its own software for how well it captures IM services as well as doing the same for its competitors. It will also explain how IM capturing performance is measured, how captured IM data should is presented to the customer, why rich media is vital to be captured, what devices are used for testing as well as giving an example of a FlexiSPY test report comparing FlexiSPY and a competitor for how well they capture a specific IM service.

You can also read, thanks to links throughout the article, detailed IM capturing reports that were created from the very same testing practices outlined in this article comparing FlexiSPY and its competitors to see how well both capture IM conversations.
Voluptate reprehenderit praesentium minus repellat dolore sapiente voluptatem porro sed nobis dicta, modi ad a facilis! Praesentium, aut aperiam quisquam dolor, mollitia optio deleniti at dolorum aliquid illum, distinctio sed placeat nobis aliquam. Officiis voluptates, at ratione! Fugiat, tempore, eum? Vel sapiente iusto, distinctio sint quos, officiis quae unde odio dolores harum repellendus veritatis quisquam, maiores aperiam? Quidem soluta minus perspiciatis, eligendi voluptatem vero. Corporis, quasi! Quasi alias, odit praesentium maiores eum earum? Optio, nostrum suscipit ea porro, eaque quis.
How is IM capturing performance measured?
When FlexiSPY tests its own IM capabilities and that of its competitors we test based upon the following factors:
TARGET device make and model.
TARGET device OS version.
IM service version installed.
Accuracy of IM conversation text captured.
Accuracy of IM rich media captured.
Accuracy of entire captured IM conversation displayed inside customer portal.
Accuracy of 1-1 IM chats captured as well as group chats.
Accuracy of search information when captured IM conversations are searched for inside customer portal.
Accuracy of IM profile information captured and delivered to customer portal.
Time taken to upload captured IM conversations to customer portal using all available internet connection types.
Once we have tested how much rich media FlexiSPY and its competitors capture we move on to the next important factor – time to delivery. This is the time it takes for FlexiSPY and its competitors to capture the IM conversation data and then upload it to the customer online account.

All this information is collected and collated in to a FlexiSPY test report which is then sent to the FlexiSPY developers to work on if issues were found. A sample of which is shown later on in this article.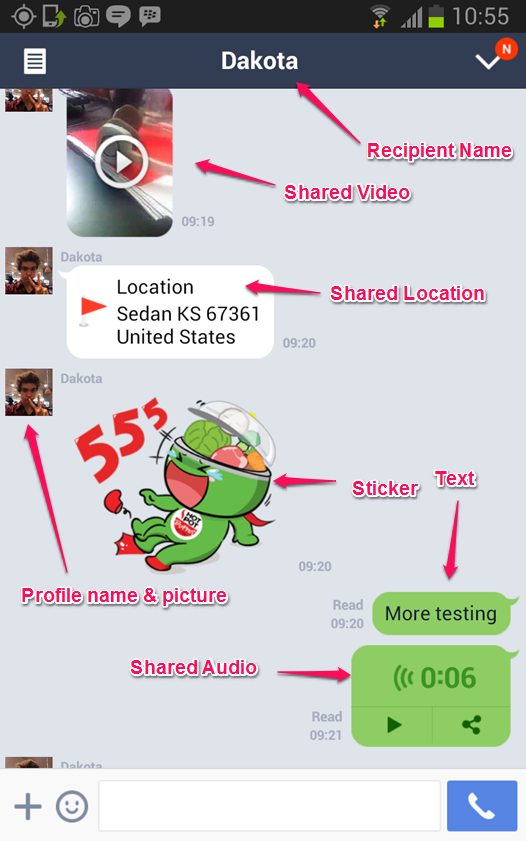 LINE IM data on the device used for testing.
How is captured IM data presented to the customer?
Displaying the contents of an IM conversation that has been captured in an easy to understand manner is very important for spy phone software.

Based upon our testing we found that all other spy phone competitors provide IM capturing as plain text which is not shown in conversational mode which means that you may often get confused about what the conversation actually means because you cannot see the shared rich media that was shared and sent during the IM conversation.

You can read more about how FlexiSPY compares to its competitors following the links given throughout this article.
How is rich media captured from a supported IM service?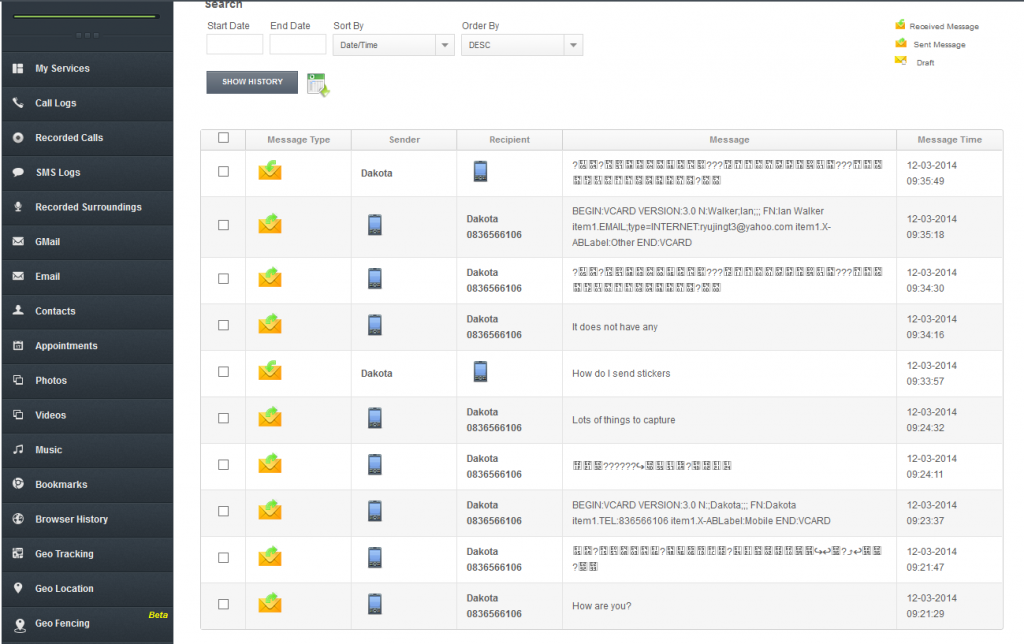 Capturing just the text of an IM conversation can not only alter the tone of the conversation but it can also mean that you may be missing out on other vital information that can only be expressed using rich media – after all a picture says a thousand words.
This is why capturing the rich media that takes place in an IM conversation is vital if spy phone software is to advertise IM capturing.

But what is rich media and how can you measure how well spyphone software captures it?

First we need to understand what rich media is.

All instant messaging programs use rich media which can be shared between devices to enhance the overall tone or message of a conversation.

Examples of rich media include the following:
Contact Name
Contact picture
Shared location
Shared video
Shared audio
Text
Stickers
Conversation is shown as seen on the phone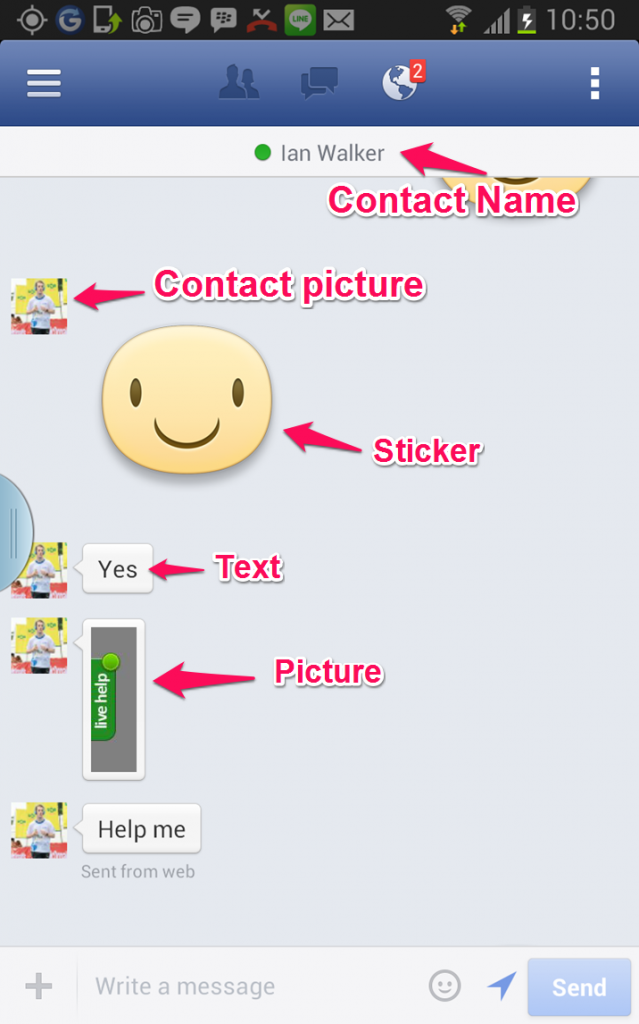 In our test other spy phone software had issues when capturing shared rich media. This led to either complete gaps in the conversation where the shared rich media would go or the shared rich media being represented inside the spy phone online account as strange symbols because the spy phone software does not recognize the shared rich media which means that the customer cannot do anything with it and potentially very important information of an IM conversation is then lost.

You can read more about this here, here, here, and here as each link represents a competitor and a specific IM service which was tested against FlexiSPY. The specific competitors are (in link order) Mspy, StealthGenie, Mobile Spy and Mobistealth respectively.
What devices are used during testing?
FlexiSPY tests IM capturing of itself and its competitors using the most popular smartphones that people have today. These may not be the most up to date ones but they are the ones that are the most popular in terms of number of owners.

For example we always like to test our software on a Samsung Galaxy S3 simply because it is a great phone.

When we test our software on an Android phone it will usually be with a Samsung phone or an HTC phone as these are the two most popular handset manufacturers. For iPhone it is the iPhone 4, 4S, 5 or 5S running iOS 7.0.6 and below (iOS 6.1.2 – 7.x) because FlexiSPY tests all current iOS versions which can be jailbroken as it understands that many customers may not be able to upgrade from iOS 6.x because they will lose their jailbreak.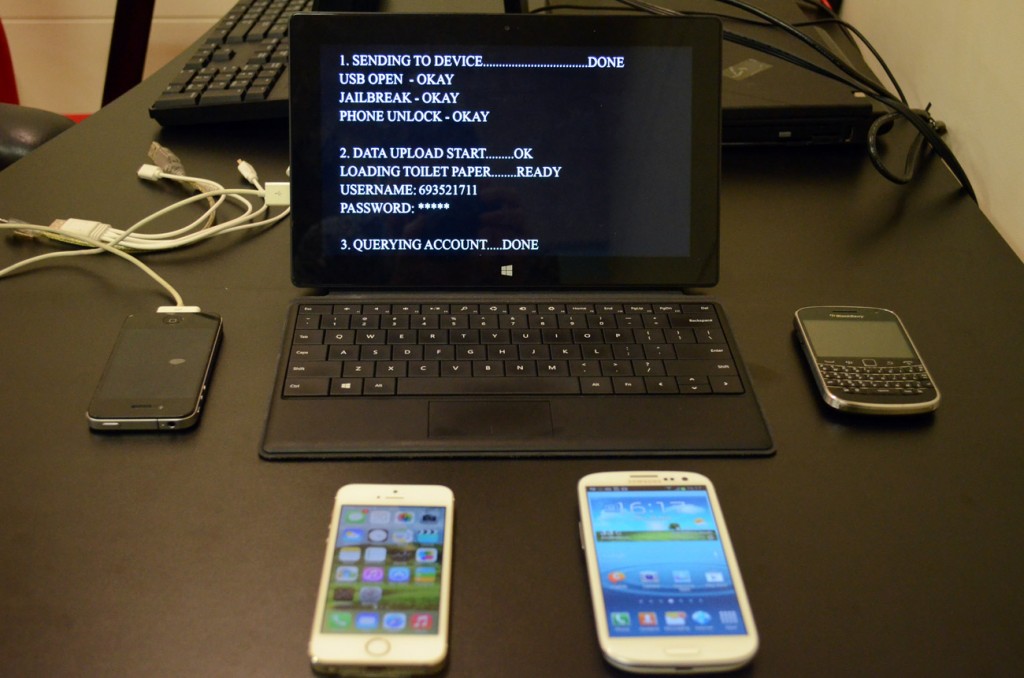 For BlackBerry we use BlackBerry devices running BlackBerry OS 7.1 and below. Currently no spyphone software works on BlackBerry OS 10 handsets or the latest Windows Phone handsets but FlexiSPY are hard at working trying to get something working very soon. It is not only the devices that are important when it comes to testing but also the version of IM software which is what we will look at next.

Because we test our own software and competitors on a variety of handsets across different operating system platforms we get a better idea of what can and cannot be done in terms of spy phone software and IM capturing for those using older OS versions and those who are using the newest and this allows FlexiSPY to keep track of OS updates and fix issues that may occur due to changes in the operating system.
What IM service and versions are tested?
FlexiSPY tests its IM capabilities with the most current IM client version as well as older ones to make sure that it performs at the highest level across a wide range of different versions. FlexiSPY has an entire department dedicated to testing its software under any condition and configuration possible to make sure that FlexiSPY works on the highest number of devices possible.

IM capturing is an important part of the FlexiSPY testing protocol. Capturing the text of the IM conversation is not enough, neither is it enough if rich media is not captured or certain types of rich media is unsupported. Furthermore the captured IM conversation content inside the FlexiSPY customer online account has to look as similar as it can to what is on each device so that the customer can quickly and easily find the information that they are looking for.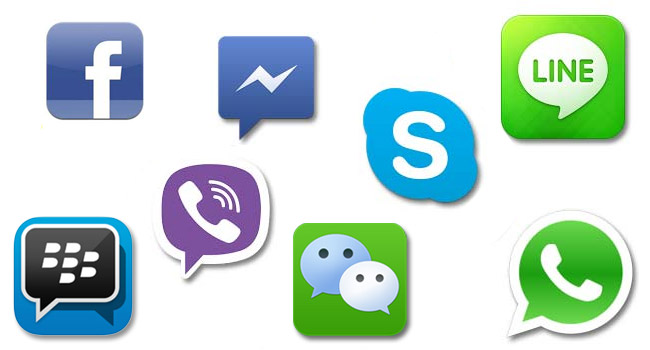 Any changes that are made to any IM service such as Facebook, LINE, Viber Whatsapp etc. means that we have to retest our software again to make sure none of the IM service changes impacted the software performance. In the past this would result in a period of time where the IM service on the TARGET device would be incompatible with FlexiSPY resulting in loss of data for the customer but FlexiSPY has now changed this with its auto update feature which you can learn more about in the blog article here.

This is far more practical than just waiting for a new release which would require reinstallation and physical access to the TARGET device so that you can uninstall and reinstall the spyphone software to get the update. Many spyphone companies still use this approach to applying updates which is no longer practical because many people cannot get access to the TARGET device physically often enough to reinstall.
How is testing of IM capture tested?
When it comes to performing tests for IM capturing we need two devices so that we can send and receive IM conversations between both devices and then measure how much text and rich media from. We then list down the number of rich media elements the IM service being tested has and send a set number of IM conversations between each device containing each of the rich media elements.

We then record which of the rich media elements have been sent between devices and which were uploaded in the online account successfully. If all the rich media elements are captured by FlexiSPY inside the online account and this is displayed as close to as it is on the phone as possible then the testing is deemed successful.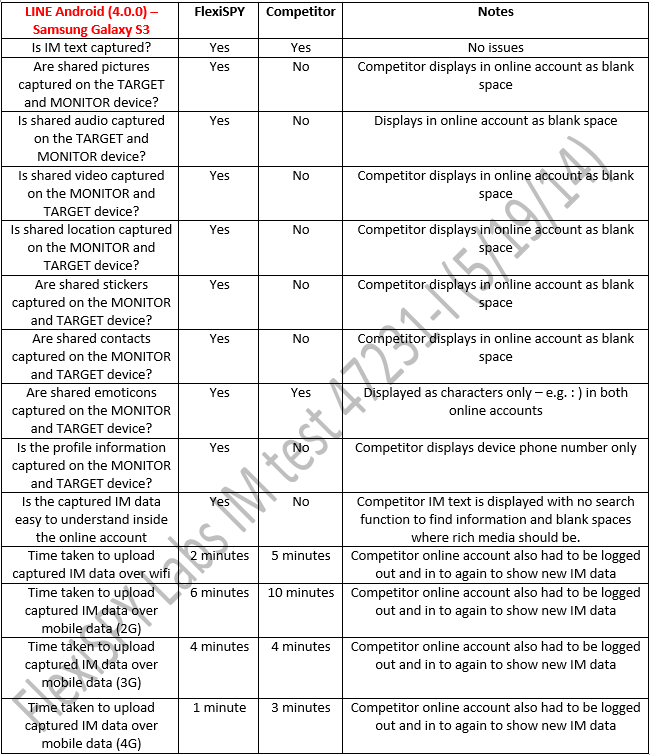 IM testing is crucial if you want spyphone software that has IM capturing
Capturing the shared rich media is essential for all spy phone software that advertise IM capturing because, without that, too much of the conversation could be missed or misunderstood. We found that all competitors tested failed to capture shared rich media as well as FlexiSPY does.

Furthermore, when it comes to presenting the captured IM conversation the competitors also displayed the IM text in a way that was hard to interpret whereas FlexiSPY displays every captured IM conversation in conversation view which means you get to see it as close as possible to how it would look on the TARGET devices used.

If you enjoyed this article and you want to learn more about how well FlexiSPY compares against it competitors on the whole, not just for IM capturing, then you can read a full review of FlexiSPY's competitors by clicking here.