MAY 20, 2016
FlexiSPY vs. Mobile Spy iPhone Which is the best for Spying on iMessage?
BREAKING NEWS:

Mobile Spy is back online but its software is visible

Mobile Spy is no longer hidden. If you are a Mobile Spy customer their software will no longer be hidden and it will be permanently visible on the phone. Please head over to the FlexiSPY Trade In Program, where they will take Mobile Spy off your hands.

iMessage is an incredibly popular instant messaging service from Apple that allows you to send messages from one Apple device for another at no cost. Due to the popularity of Apple devices in general it is no surprise that spyphone software has now added iMessage to the list of supported instant messaging services captured (unless you are Mobistealth who we hope will add IM capturing soon) but how well is iMessage captured?

This article will look at FlexiSPY and Mobile Spy and compare which one not only captures iMessage consistently but will examine how well each of them capture iMessage and what elements of the iMessage are captured. On paper FlexiSPY is the premier spy phone for those who want to spy on instant messaging services as they offer support for 13 IM services across all supported platform which is far more than any other spy phone software competitor – including Mobile Spy.
How Important Is IM Capturing For Spy Phone Software?
IM capturing is very important for spy phone software. Before Facebook, LINE, Skype and other popular IM services came along people either called each other or sent an SMS message. Spy phone software has always been able to capture that without any hassle but with the advent of IM services and with more and more people using Facebook or WeChat to talk to each other it seems that sending instant messages to one another is replacing the need to call or send an SMS.
This is why the majority of spy phone software now offers support for a variety of IM services. In this regard FlexISPY offers support for the most IM services when compared against any other spy phone competitor, iMessage included, but capturing the text alone is not enough. Because instant messaging allows you to send so much more than text to the other person it is the shared rich media between participants, such as a locations, pictures, videos or stickers, that arguably convey far more meaning in a conversation now than text ever can.
With Mobile Spy and FlexiSPY both offering support to capture iMessage the focus will be on how well this is captured. Is just the text captured or is the shared rich media captured too? Out of FlexiSPY and Mobile Spy which one gives you the best iMessage capturing experience?
Mobile Spy Captures iMessage – But It Is Just Images & Text
When it comes to Mobile Spy capturing two things were noted. First is that only the text is captured. Second is that the captured iMessage data is presented inside the Mobile Spy online account in a layered format meaning that all the incoming iMessages are layered on top of all the outgoing ones which makes the trail of the conversation hard to follow.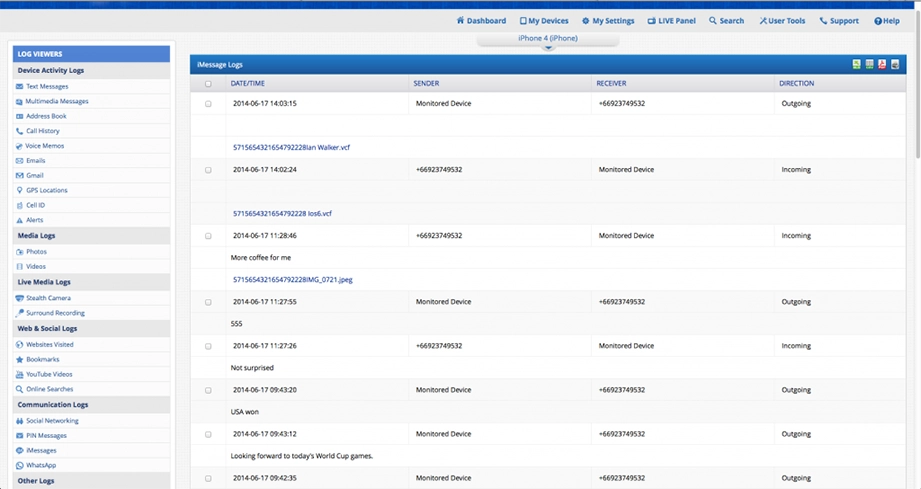 When it comes to shared rich images, location data and contacts were all captured but they were shown as links inside the Mobile Spy online account. To view the shared rich media you click the link to open a separate window which takes you away from Mobile Spy. The media file will then download to your computer and open up in the default image program for you to view.
For shared location data Mobile Spy, as mentioned, displays it as a link. However when you click that link a new window opens stating 'File does not exists' [sic]. So it seems that Mobile Spy does not capture shared location data after all. For shared contacts a link appears with the contact details which you then click to download the contact file to your computer and then the address book software on your computer will ask if you wish to add that contact.

Mobile Spy does not capture any of the iMessage profile information (name and picture which gets pulled from the contact listing that the TARGET device is talking with) and instead displays the phone number of the other person and the TARGET device as 'Monitored Device' which is lacking. It would be nice to have seen all the contact details and pictures captured too for the TARGET device and the recipient but Mobile Spy does not offer this.

When it comes to new data from iMessage getting uploaded by Mobile Spy the 'Fetch Logs' option in the User Tools menu failed to upload any new data even though the Mobile Spy web dashboard told us that the operation had been completed. We found that the only way to get new iMessage data (or any new data to show inside the Mobile Spy online dashboard) was to log out and then log back in again.

Upon doing this newly captured data may then be added but even when doing this it still took several log out and log back in attempts before the new iMessage data appeared. There is also no option of any kind to set or see how often Mobile Spy uploads data to the online account so you are often left just wondering when new data will be uploaded.
FlexiSPY Captures iMessage – Text, Shared Rich Media & More
In contrast to this FlexiSPY first of all gives you complete control over the time interval for uploading data to the online FlexiSPY account. But, most importantly, FlexiSPY captures not only the iMessage text but the shared rich media (contacts, location, and images) as well as the iMessage profile information. It then displays all this information in a format that is as close to what you see on iMessage itself as possible so you can easily follow the trail of the captured iMessage conversation once you have logged in to your FlexISPY online account.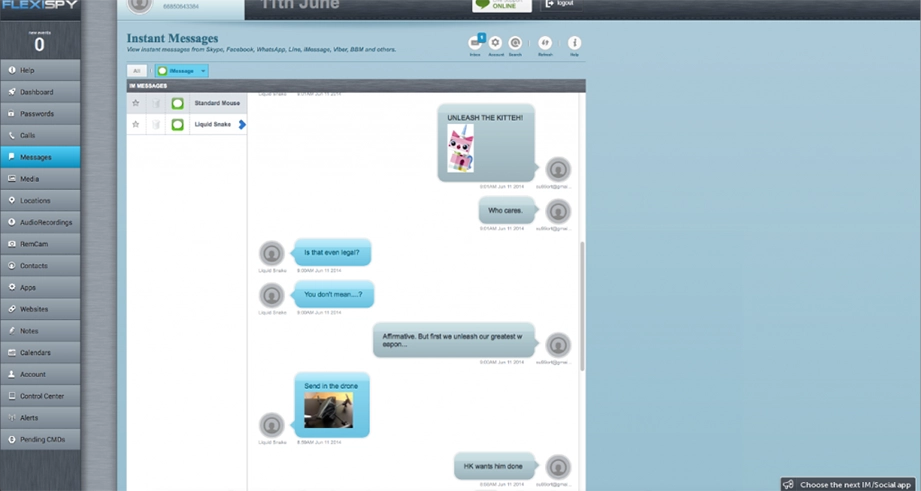 For all the captured shared rich media FlexiSPY allows you to download it directly to your computer for later analysis with no need to leave the FlexiSPY online dashboard in any way. Basically then, when comparing the two, all the fault that Mobile Spy has with iMessage which have been outlined above are fixed by FlexiSPY which offers the superior iMessage capturing experience.
FlexiSPY captures all the shared rich media that can be shared in an iMessage conversation as well as capturing the iMessage profile details of the TARGET and recipient which is not offered by Mobile Spy.
FlexiSPY Give You All Of iMessage
The evidence here speaks for itself.

FlexiSPY captures iMessage, both text and shared rich media. It presents it in an easy to understand manner and gives you complete control over how often capture iMessage data is uploaded to the FlexiSPY online account.

Mobile Spy simply captures the iMessage text and images. No other shared rich media is captured or displays properly. The data is also hard to follow once inside the Mobile Spy account as well and there is no control or guarantee over newly captured iMessage data being uploaded.

So, as you can see here FlexiSPY provides the best iMessage capturing experience when compared against Mobile Spy. But, that is not all. FlexiSPY also captures more IM services across all supported smartphone platforms than any other spy phone competitor as you can see from the table below.