MAY 20, 2016
FlexiSPY vs. Mobile Spy iPhone Which is the best for Spying on Yahoo Messenger?
BREAKING NEWS:

Mobile Spy is back online but its software is visible

Mobile Spy is no longer hidden. If you are a Mobile Spy customer their software will no longer be hidden and it will be permanently visible on the phone. Please head over to the FlexiSPY Trade In Program, where they will take Mobile Spy off your hands.

This article reviews FlexiSPY and Mobile Spy's ability to monitor Yahoo! Messenger (YM) IM logs from your iPhone target phone. To understand our testing methods.

Parent company AOL hasn't released any statistics on YM's account base or usage. However, as one of the original IM platforms, Yahoo Messenger has been around since 1998. Many old school netizens still have and use these accounts, with all their old contacts still on it.

But it's not only older people that use YM. Yahoo! was one of the first popular search engines and free email services, and boosted YM's popularity by integrating it into the free Yahoo! email service. Because of this anyone with a Yahoo! email account already has a Yahoo! Messenger account and some of their longest running contacts are also on it. By pulling together Yahoo Search, News, Games, Dating and even the popular photo sharing site Flickr, Yahoo has kept itself popular with both IM and email users.
Yahoo! Messenger Options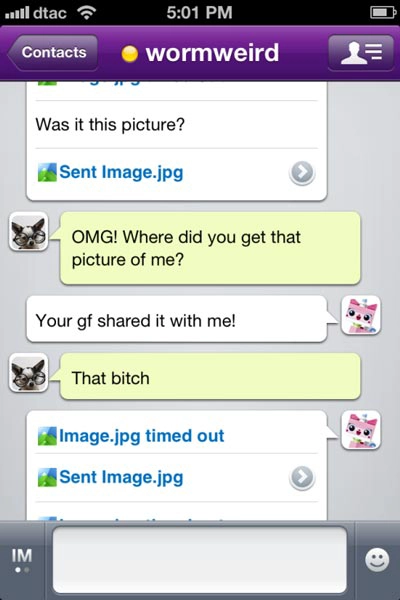 Yahoo! Messenger for iPhone communicates primarily by text, emoticons and photo sharing, as well as streaming video and voice calls.
There are 7 basic types of chat information you can send via Yahoo Messenger for iPhone:
Contact Name
Contact Photo
Text chat
Emoticons
Photo sharing
Video call
Audio call
We used this information in testing both FlexiSPY and its competitors. In the screenshot Fig. 1 you can see a typical screen from YM as it appears on a mobile iPhone. The image here shows both text and images sent and received.
How does Mobile Spy capture Yahoo! Messenger?
Mobile Spy does not offer Yahoo! Messenger monitoring for iPhone or Android. The Mobile Spy web site does advertise YM logging, but the feature page informs us that YM is only available for Blackberry models.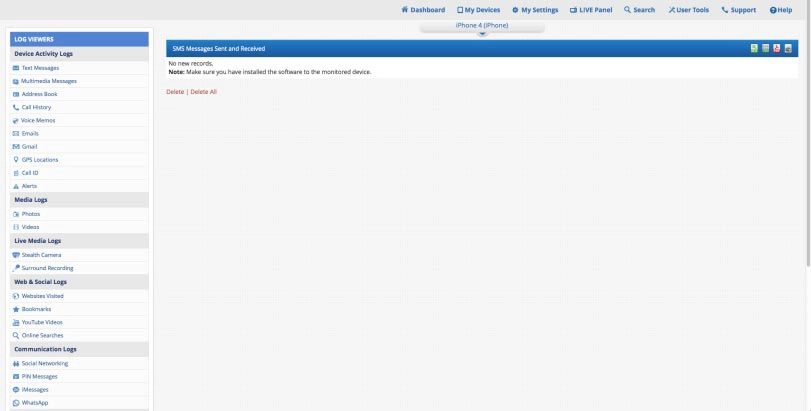 This is compared to 4 out of 7 types of YM communications successfully captured by FlexiSPY. FlexiSPY's monitoring included text chat logs, contact names and profile pictures, plus photos sent and received.
Mobile Spy only claims to monitor Facebook, WhatsApp and iMessage for iPhone, not Yahoo! Messenger. We cover how well Mobile Spy captured these other IMs in separate reviews from this series.
How does FlexiSPY capture Yahoo! Messenger?
FlexiSPY accurately captured all YM text and photos sent between our target iPhone user and multiple contacts, which were also identified by contact name and profile picture. Logs are displayed in the FlexiSPY dashboard like YM on the phone itself, with alternating contacts on each side of the screen in an easy to follow format.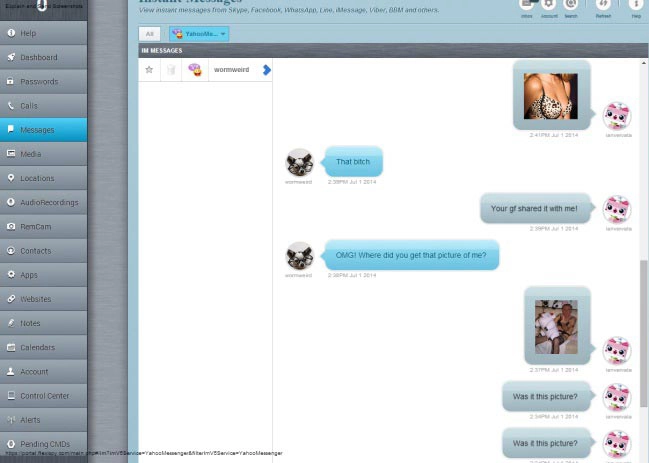 Multiple contacts can also be selected from a list to the side of the log screen. FlexiSPY is the only cell phone monitoring and spyphone software to capture Yahoo! Messenger logs on iPhone – this makes FlexiSPY the only choice for YM text and photo monitoring of iPhone target phones.
Only FlexiSPY monitors YM logs on iPhone – no other mobile monitoring software offers it – including Mobile Spy.
FlexiSPY vs Mobile Spy – Who Captures More Yahoo! Messenger?
Mobile Spy does not offer any Yahoo! Messenger monitoring for iPhone. In fact, it's only offered for Blackberry, so you can't capture any YM communications from an iPhone target using Mobile Spy. If your target uses Yahoo! Messenger on iPhone you'll need FlexiSPY to monitor it, as FlexiSPY is the only cell phone spy software on the market that monitors Yahoo! Messenger for an iPhone mobile.
Although FlexiSPY doesn't yet capture YM's live audio and video calls, it did successfully capture all YM text messages and photos, plus contact names and profile pictures (emoticons presented in ASCII equivalents). This information is displayed with each contact on alternating sides in an easy to follow format (See Fig. 3). FlexiSPY sends these logs to your personal online archive for review at any time, inside your FlexiSPY account.
FlexiSPY is currently the only cell phone monitoring software to offer Yahoo! Messenger IM logging on iPhone. FlexiSPY offers more tracking and monitoring across all smartphone communications. If you need Yahoo! Messenger monitoring, FlexiSPY is the only choice. FlexiSPY also captures other popular IM services which are summarized in the table below and in the blog article here. These are compared in separate articles from this series.