MAY 20, 2020
FlexiSPY Vs. mSpy iPhone Which Is The Best For Spying On WhatsApp?
This article reviews FlexiSPY and Mspy's ability to monitor WhatsApp chat logs from your iPhone target phone. We test all features and shared chat content to compare the end results.
Released in 2009 from California, by February 2014 WhatsApp was receiving over 1 million new registrations per day. In the same month, Facebook purchased WhatsApp for a cool $19 billion dollars after Google had offered $10 billion for the app. By April, WhatsApp reported 500 million monthly active users. WhatsApp users are sending billions of free messages daily, including pictures, audio messaging and more. Available for iPhone, Android, Blackberry, Windows and even Symbian, if you don't use WhatsApp a lot of other people do. WhatsApp's global popularity continues to grow and shouldn't be ignored from your list of monitored IM apps.
WhatsApp Options
WhatsApp for iPhone offers standard IM text chat, plus the sharing of photos and video clips, emoticons, audio messages, location information and shared contacts. Here are the 9 basic pieces of information you can send via WhatsApp for iPhone:
Contact Name
Contact Photo
Text chat
Photos
Video Clips
Audio Message
Emoticon
Shared Location
Shared Contact
We used each of these to evaluate both FlexiSPY and MSpy. In the screenshot Fig. 1 you can see a typical screenshot from WhatsApp as it appears on an iPhone. The image here shows several of these elements being shared in the chat conversation.
Is Rich Content Really So Important?
Sharing rich content is a normal part of chatting today, as the popular IM apps all support many ways of expressing emotion. Shared content creates a livelier interaction and creates a broader meaning of conversation. Such content easily communicates even more than words, without the words.
If a picture is sent by a contact and your target user replies "I want it," then without seeing the picture you can't know if your target is referring to a Caribbean vacation, or something far more sensual and… Mediterranean. If they say, "Meet me here" and send location data or a video clip that says, "I want you now," you'll miss this entirely if location and videos can't be captured. Missing these gaps in your chat logs can leave the text chat meaningless or without a real context.
It's important that a cell phone monitoring app such as FlexiSPY captures much more data than text alone, which you'll need to understand the full meaning of what is really said in those chats.
How does MSpy capture WhatsApp?
MSpy does not provide any details about exactly what gets captured. For example, "Track all WhatsApp chats." But does this include the complete chat log with all subject matter and shared content? We put both MSpy and FlexiSPY to the test in this comparison review.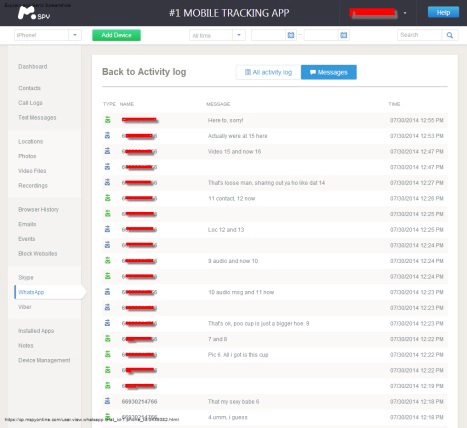 As you can see from the screenshot Fig. 2, MSpy captures only 1 of 9 types of WhatsApp chat data – the text only part of the conversation. All other content such as pictures, audio messages, location or etc. leave only blank entries in the MSpy logs. These logs are laid out in sequential rows, and the gaps in conversation provide no indication of what's missing, only an empty row where the communication should be.

Contact Names and profile photos are also not captured, so it's not immediately clear who the contact is. A phone number is captured in place of a name, but this are already captured in the Contacts log and is not part of the actual conversation.
MSpy also claims to capture Skype, Viber and iMessage for iPhone. We look at how MSpy captures these IM apps in other reviews from this series.
How Does FlexiSPY Capture WhatsApp?
FlexiSPY captured 8 of 9 chat and media elements that were shared in our conversations; this is everything except for the small emoticon graphics. FlexiSPY's logs are also laid out in the convenient reading style of alternating text on each side of the screen, the same way chats are displayed in WhatsApp itself.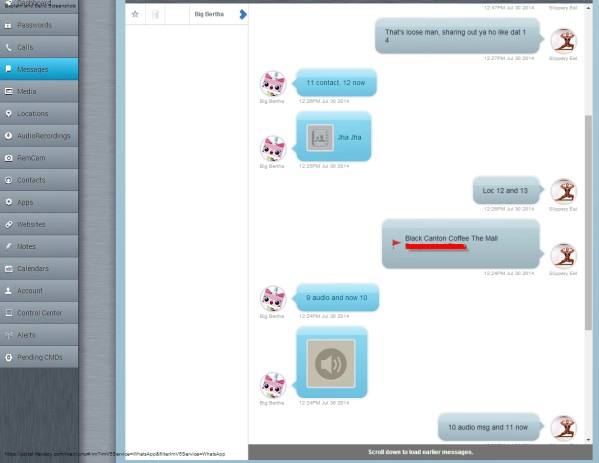 FlexiSPY accurately captured all WhatsApp text, photos, video clips, audio messages, shared locations and shared contacts. FlexiSPY also captured each contact name and profile picture, so we know immediately who our target is communicating with. Logs for multiple contacts are available from a drop down to the right of the main chat log. FlexiSPY provides a scrolling history of the communications between your target and all contacts, appearing on alternating sides of the screen for easier readability.
FlexiSPY Vs MSpy | Who Captures More WhatsApp?
MSpy captured only 1 out of 9 possible WhatsApp communication types – the basic text itself. FlexiSPY captured 8 of 9 WhatsApp communication types, offering more complete logs of your monitored WhatsApp chats.

Monitoring more than text alone is necessary to understand what each contact is responding to, whenever a photo, video clip, shared contact, audio message or location information is shared. This shared content often provides an underlying context for the surrounding conversation and can indicate the difference between an innocent chat and something more alarming. If you really need to know what's being discussed and shared with others, gaps in the MSpy chat logs are unsettling and leave you guessing about what you're not seeing.

FlexiSPY captures more of your WhatsApp logs and clearly identifies all contacts your target is communicating with. It displays this information along with other shared content in an easy to follow manner (See Fig. 3). There's clearly more to track and follow with FlexiSPY. If you need more complete WhatsApp monitoring, FlexiSPY is the only choice to either confirm your suspicions or to settle your doubts.

FlexiSPY also monitors other popular IM services which are summarized in the table below and in the blog article here. These are compared in other articles from this series.