MAY 20, 2020
FlexiSPY vs. StealthGenie Which is the best for Spying on Google Hangouts?
BREAKING NEWS:

The StealthGenie Site Is Offline

It should be added that for the time being, StealthGenie have gone offline. If you're one of the purchasers of this software, and are unable to contact StealthGenie support, or couldn't get a StealthGenie refund, then we recommend that you head over to the FlexiSPY Trade In Program, where they will take StealthGenie off your hands.

This article looks at using FlexiSPY and StealthGenie to monitor Hangouts IM chat logs from your iPhone target phone. We also discuss what "rich content" is and what kind of shared media is or is not captured by each product.

Hangouts is the popular successor to Google Talk (GTalk), the IM chat application introduced by Google in 2005. Hangouts allows users to hold conversations between multiple contacts and includes the sharing of location and photos, as well as live Internet video calls. Hangouts is offered through the free Gmail service, on Google+ websites, the Chrome OS and web browser, and for Windows, Mac and Linux computers, as well as mobile apps for both Android and iOS smartphones.

Everyone with a Google Mail (Gmail) account already has access to Hangouts, as well as it comes preloaded with Android phones. Chat histories are saved online and synced between all devices wherever Hangouts is used. Because of its widespread integration and cross-platform use, Hangouts has become a popular and convenient choice for both iPhone and Android users to chat and stay connected with friends using a variety of devices.
Is rich media content really so important?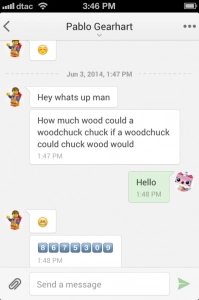 IM's go far beyond the text only days of SMS. Not only is IM use generally free with a basic Internet package or any free Wifi, but sharing enriched media between contacts creates a more conversational and interactive experience. You can follow words on a page, but if you can't also follow emoticons, pictures or other rich content that's often sent in place of words, then you can't know how your target user is really responding and communicating. If you want the real meaning behind an IM conversation, you need to capture more than just the text alone.
When a picture is sent by a contact and your target replies "I would love to be there now," then without seeing the picture you can't know if your target is referring to a Caribbean vacation or the silk sheets of a secret lovers' bed. If your target says, "Meet me here" and sends location data or an audio message that says, "I love you," you'll miss this entirely if location and audio aren't also being captured. Not all IM's offer the same features, but if you're not monitoring as much as possible then you are not getting the whole story.
Popular IMs such as Hangouts offer a variety of chat elements like emoticons, audio and video calls, location and photo sharing. It's important that a cell phone monitoring app like FlexiSPY captures more than text alone, which you need if you want to understand more of what's going on in those chats.
Here are the seven pieces of chat information you can send via Hangouts from an iPhone:
Contact Name
Contact Photo
Text Chat
Location
Photos
Emoticons
Audio/Video Internet Call
We use each of these in testing both FlexiSPY and the competitors, including StealthGenie. In the screenshot above you can see a conversation with some of the Hangouts chat elements as displayed on the target iPhone itself.
How does StealthGenie capture Hangouts?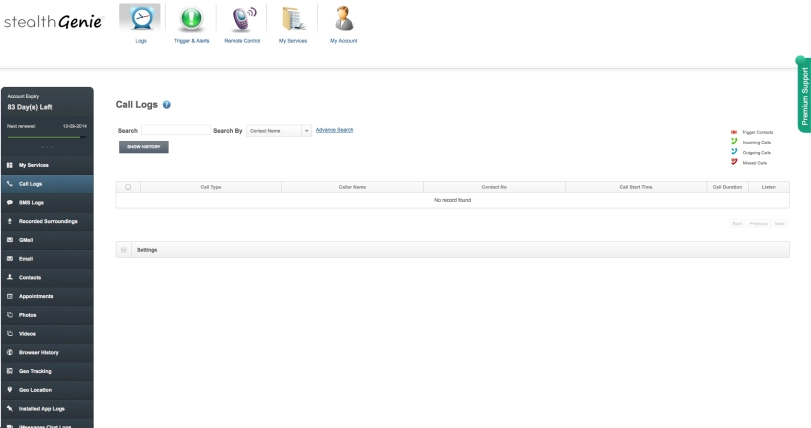 StealthGenie does not offer any Hangouts monitoring. This is compared to 5 out of 7 types of Hangouts communications successfully monitored by FlexiSPY. These included text chat logs, contact names and pictures, photos and location data both sent and received.
StealthGenie claims to monitor Facebook, Viber, Skype, WhatsApp, iMessage and BBM for iPhone, but not Hangouts. We cover how well StealthGenie captured these other IMs in separate reviews from this series.
How does FlexiSPY capture Hangouts?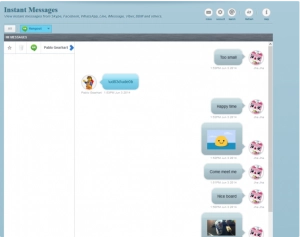 FlexiSPY accurately captured all Hangouts text, photos and GPS locations sent between our target iPhone user and multiple contacts. Contacts were identified by contact name and profile picture. Emoticons were captured in their ASCII equivalents. Multiple contacts can be seen from a list beside the main chat logs. The FlexiSPY dashboard provides a scrolling history of the communications between your target and all Hangouts contacts and comfortably displays this on alternating sides of the screen.
FlexiSPY is the only cell phone monitoring and spyphone software to capture not only Hangouts text messages, but also the shared photos, contact names and pictures, plus shared location data; this puts FlexiSPY clearly in the lead for monitoring Hangouts and understanding more of the complete conversation than any of its competitors – including StealthGenie.
Only FlexiSPY monitors Hangouts text, photos, contact data and shared locations. FlexiSPY clearly identifies each of the contacts your target is communicating with and displays this information in an easy to read manner (See Fig. 3).
FlexiSPY vs StealthGenie – Who Captures More Hangouts?
StealthGenie does not offer Hangouts monitoring, so you cannot capture any Hangouts chat logs with StealthGenie. If your target uses Hangouts then you'll want FlexiSPY to monitor it. FlexiSPY does not yet capture the streaming video calls, but it does capture all Hangouts text messages, contact names and pictures, location data and all photos sent and received. FlexiSPY sends Hangouts monitored logs to your personal online archive, inside your FlexiSPY account. You can review these chat logs from your FlexiSPY dashboard at any time.
FlexiSPY also captures other popular IM services which are summarized in the table below and in the blog article here. These are compared in other articles from this series.