Here at Spy Phone Review we are always happy to expose scammers and fraudulent spy phone software and Mr. Follow is brand new and only just came on to our radar thanks to a Google Alert we had set up that alerted us whenever spy phone software advertised that it worked on the latest Windows Phone handsets and BlackBerry 10 smartphones.

Of course, because we all know that it is not possible to install spy phone software on either of these smartphone platforms due to the operating system being too secure to allow for this to happen we just had to try it out and see whether or not this was a bona fide scam or if it really was the first spy phone software that worked on the latest generation of smartphones that were not iPhone and Android or whether or not it was nothing more than the usual kinds of spyphone scams we encounter all the time.

This report will be split in to the following sections:
Investigating the software claims
Seeing if what they advertise on their website is really what the software can do.
Investigating the software website
Looking at the website and seeing if there are any discrepancies in terms of accuracy of information or if this is one of several sites as part of a scam ring.
Investigating the software, you receive after purchase
Looking in to if the scam software works and, if it does, if it delivers on any of the features or claims outlined in the first section of this report.
Investigating where the scam originated from
Collating all our evidence and cross-referencing it with any other scam software information we must find the true provider of this scam.
Protecting yourself from scams like this
Explaining how you can use real software such as FlexiSPY if you wish to monitor a device instead of falling for scams such as this – and saving money on your FlexiSPY purchase in the process.
Investigating the software claims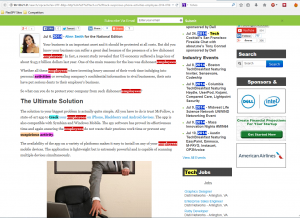 Mr. Follow advertises itself as a supposedly legitimate spy phone software company providing software that you install on to a supported smartphone to capture the data from it and have that data uploaded to an online account. It is advertised as if it works compared to reputable smartphone spyphone software such as FlexiSPY but it really is a scam right from the beginning – it is advertised as being too good to be true and it is.
The article that we came across that led us to investigate this has since been taken down. This is just one confirmation that the software is a scam, but how else did we know it was a scam?

Below you can see the original link and the article no longer there.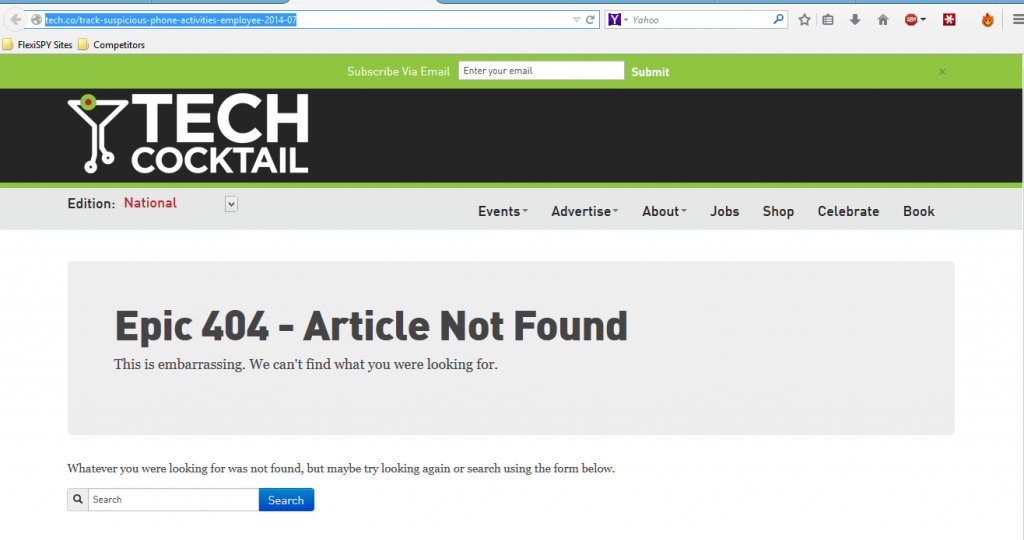 Mr. Follow, at least on top, advertises features that reputable spy phone software such as FlexiSPY also offer. This helps lure people in because they are not advertising the usual scam features such as being able to install on any phone anywhere in the world completely remotely which makes this scam harder to detect unless you do a little digging as we outline in the rest of this report..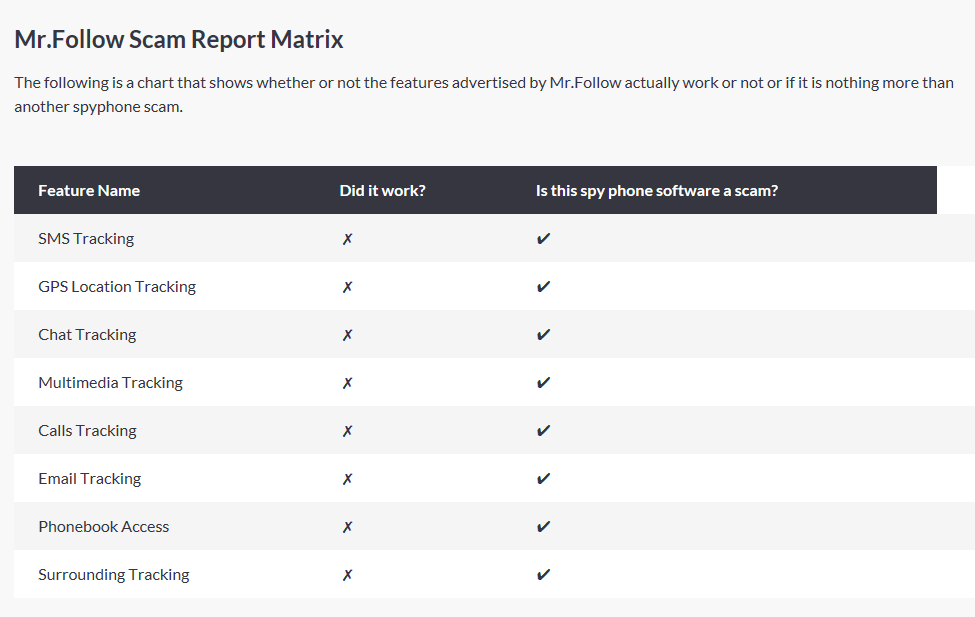 Investigating the software website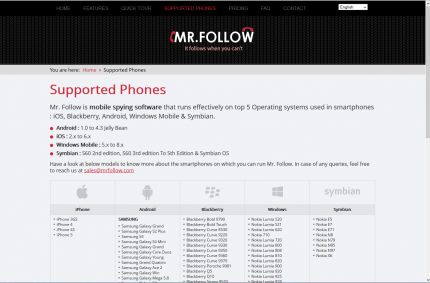 On their website, they advertise that they support the latest generation of Windows Phone devices as well as the latest BlackBerry 10 handsets. If reputable spy phone software companies are unable to do it then this is the first thing that should alert you that this is a scam.

Furthermore we sent several comments to their support team about how to get the download link after install (see the section titled 'Investigating the software you receive after purchase' for more on this) and (at the time of writing this) it has been over 48 hours with no support or response in any way which leads us to their interesting refund policy.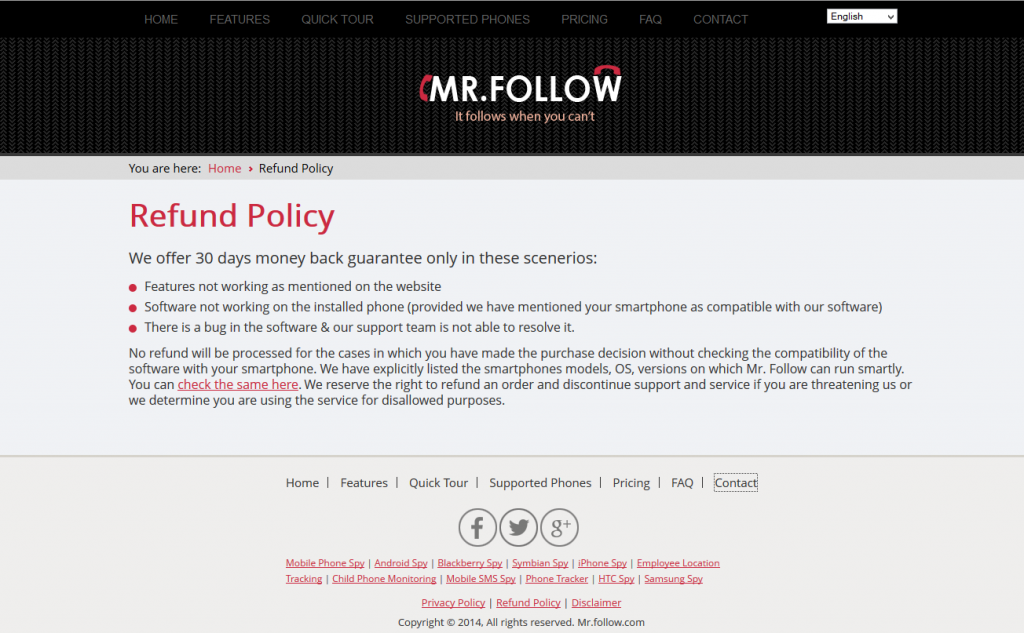 The refund policy sounds superb, 30 days money back guarantee, except when you read the terms entirely you realize that not is all as it seems. For example, they will not refund you if the phone you want to use is not supported (for the record we wanted to try the software on a Nokia Lumia 620 which is listed) and they say that they will refund you if there is a bug in the software that their support team cannot solve.

But what happens if you cannot get in touch with the support team like us? They also say that they will not refund you if they are threatened which leads us to believe that they have been threatened for this quite a few times which is normal if you are a scam taking people's money.
Investigating the software, you receive after purchase
When it comes to spy phone software the only way to ensure it is installed and working properly is by you yourself physically installing the software on to the phone itself whose activities you wish to monitor.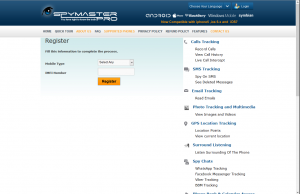 Unfortunately, though many people are unable to do this for various reasons and that is why many scam spy phone software take advantage of this by allowing for remote spying methods instead such as using Bluetooth, or, in the case of Mr. Follow, the phone IMEI number.

The installation process for Mr. Follow is as given below.
Purchase the software from the Mr. Follow website
Receive a confirmation email and click the link inside.
On the page that is asked to enter the IMEI number of the phone whose activities you wish to monitor.
⦁ Receive a second email which you access on the phone you want to monitor which contains a download link to install the software on to the device.
Entering the IMEI of the phone you wish to spy on is always going to end badly.

Unfortunately, the download link that was promised was not actually present in the email.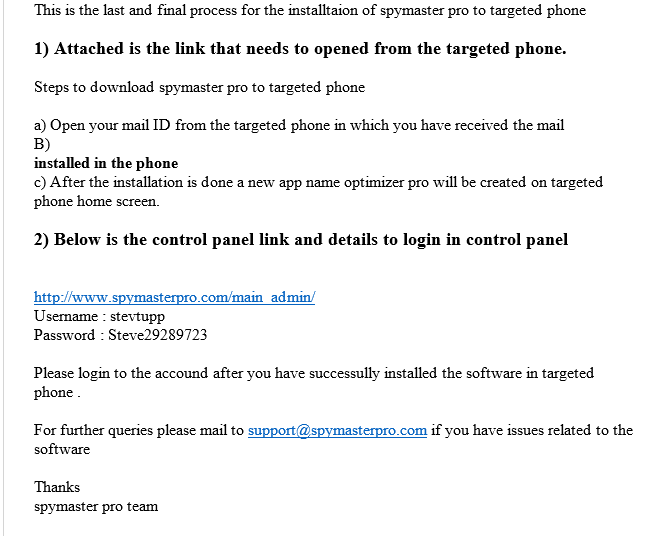 We tried to contact their support team for assistance on this. We did this twice using the contact form on their website and then we sent them a direct email.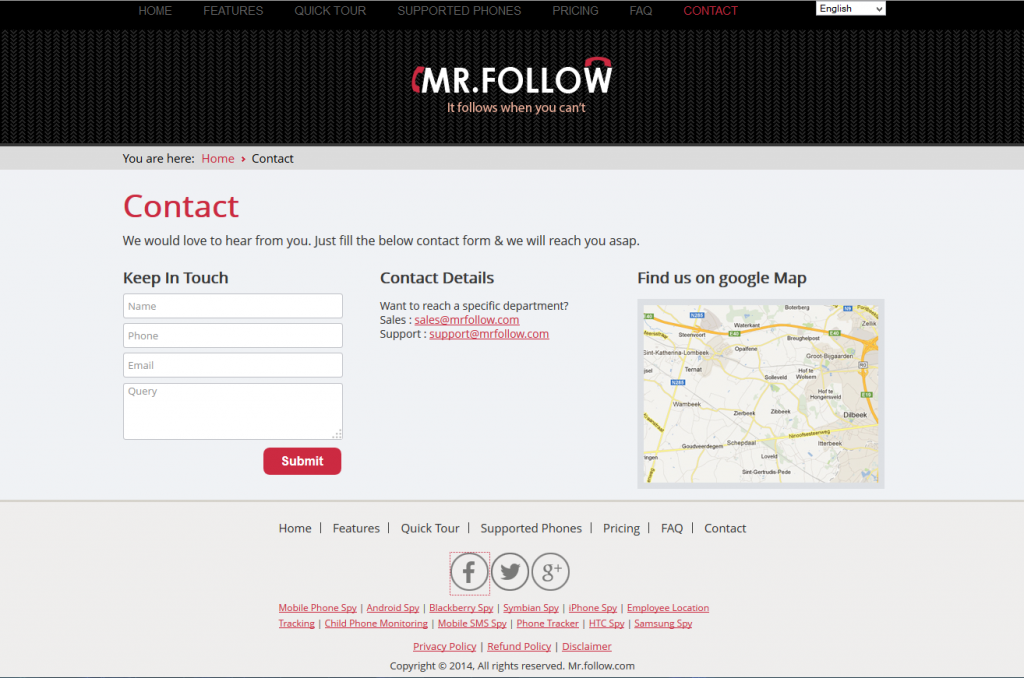 We also tried sending them an email directly from the email addresses listed and the email bounced back to us and could not be delivered. This meant that there is currently, at the time of writing, no way to get any assistance with our lack of download link so we could never even install the software further verifying that this is yet another spyphone scam.

Whilst we were trying to contact the support team for assistance we decided to check the online account using the details given in the second email and this led to some interesting findings of its own too.

Even though we have no download link and so we cannot install the software to test it we still tried the online account details that we received after purchase and they worked but with interesting results.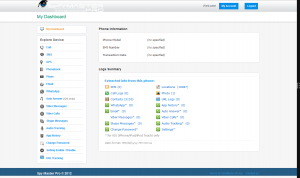 Basically, the online account contains fake data from the start because you cannot even install the software on to any phone you want to monitor it is like you are paying for access to a demo account only.

According to the screenshot above our online account contains 3153 contacts, 10987 location events and 1 photo (the fact that the number of locations is '10987' begs that it is fake as if someone just wanted random numbers for a test account). Let's look at this data in more detail.
There are 3153 contacts as mentioned. All of them are fake data. A lot of them have the same number for different contacts.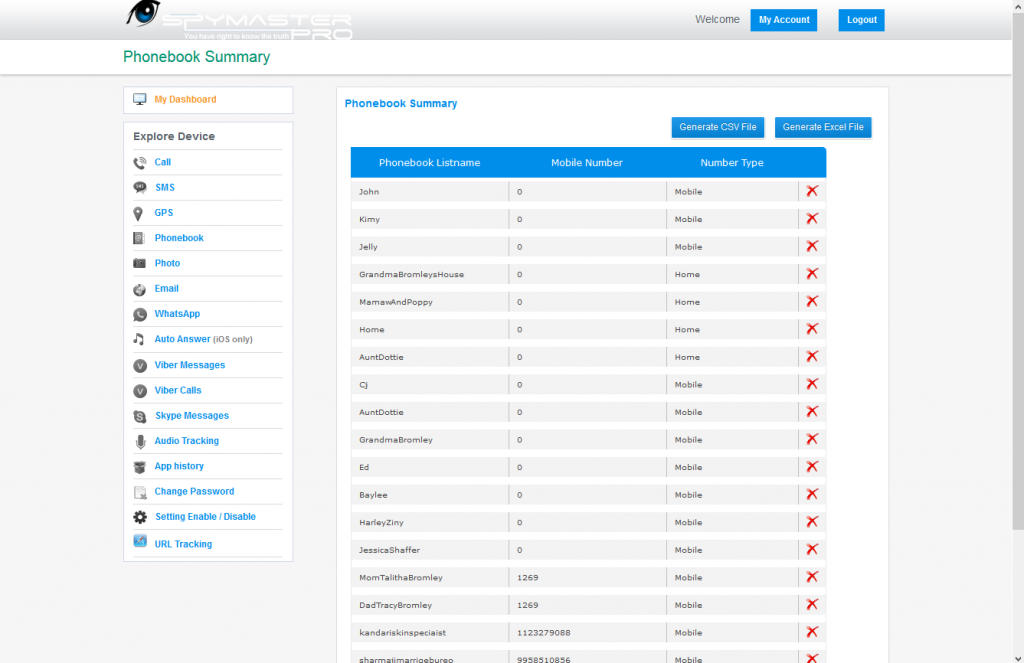 You can tell this because lots of the contacts just have 0 as the phone number. Again, this just shows that the data is fake as if to show people that this is what they could be having if the software that they had paid for worked.

The GPS location data is the biggest sign that everything is fake. Why? Because there are over 400 pages of GPS location data from random places around the world (mainly Canada and India) which spans back nearly 4 years – remember, we have not even installed anything on to our phone yet but our account already has data in it, another way you can figure out that this is a scam.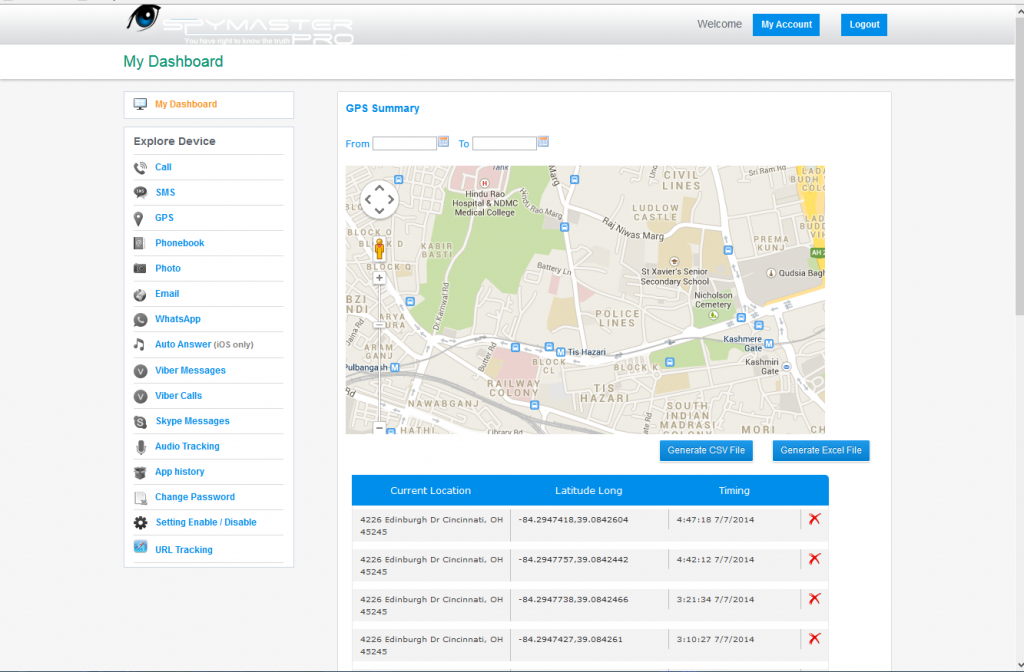 You can, however, download the fake GPS data and contacts data as an Excel file if you wish.
The GPS data looks like this.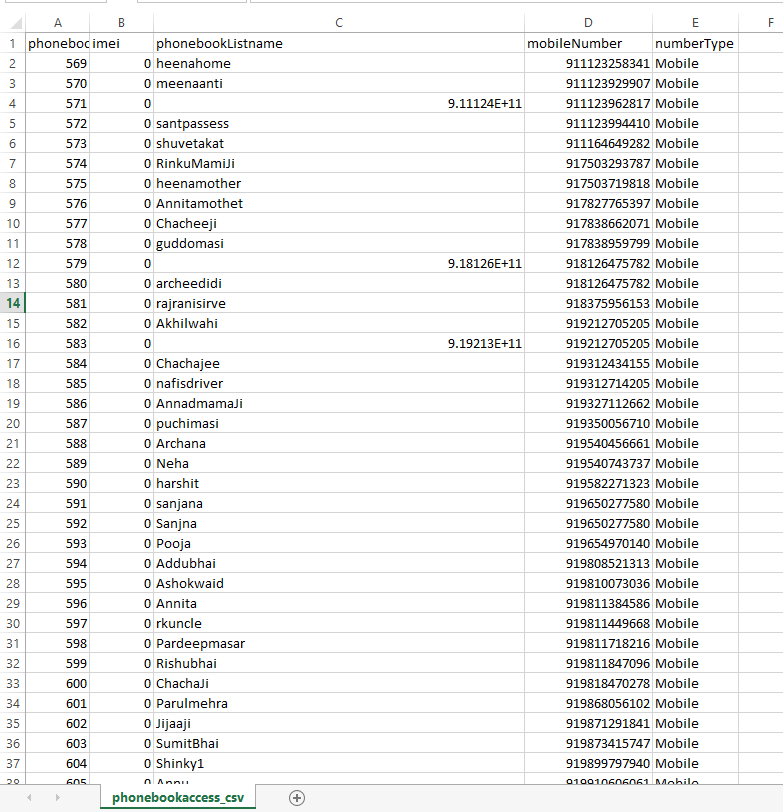 The contacts data looks like this.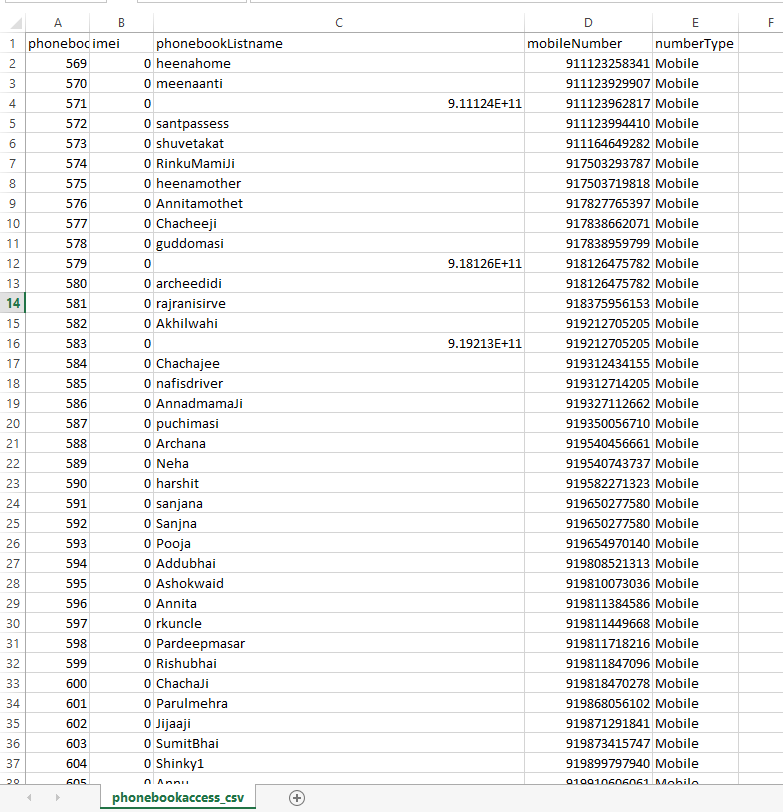 Investigating where this scam originated from
First, the software has changed its name from Mr. Follow to Spymaster Pro.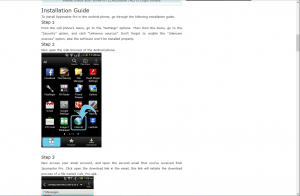 Spymaster Pro advertises the same features and promises as Mr. Follow which is expected. However, as with the Mr. Follow website, they advertise that the software is available for all platforms (iPhone, Android, Windows Mobile etc.) however the Spymaster Pro installation guide only gives steps for how to install on an Android phone.
This means that it is not true that Mr. Follow/Spymaster Pro works on iPhone, Windows Mobile/Windows Phone and BlackBerry phones. This was already mentioned as the first sign that this was a scam.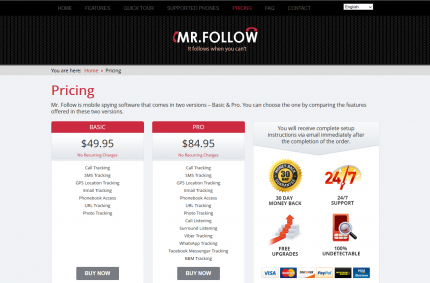 However, the website does give installation instructions for Android but this makes no sense because if Mr. Follow and Spymaster Pro are the same then why are the installation instructions not on both websites?

Also, both websites advertise the same software for two different prices.

Mr. Follow advertises the software as $84.95 which is a one-time fee.
Spymaster Pro also advertise the software as a one-time fee but the price is only $49.95.

Both websites advertise that the software is compatible with iPhone, Android, BlackBerry, Windows Mobile and Windows Phone but this is not the case.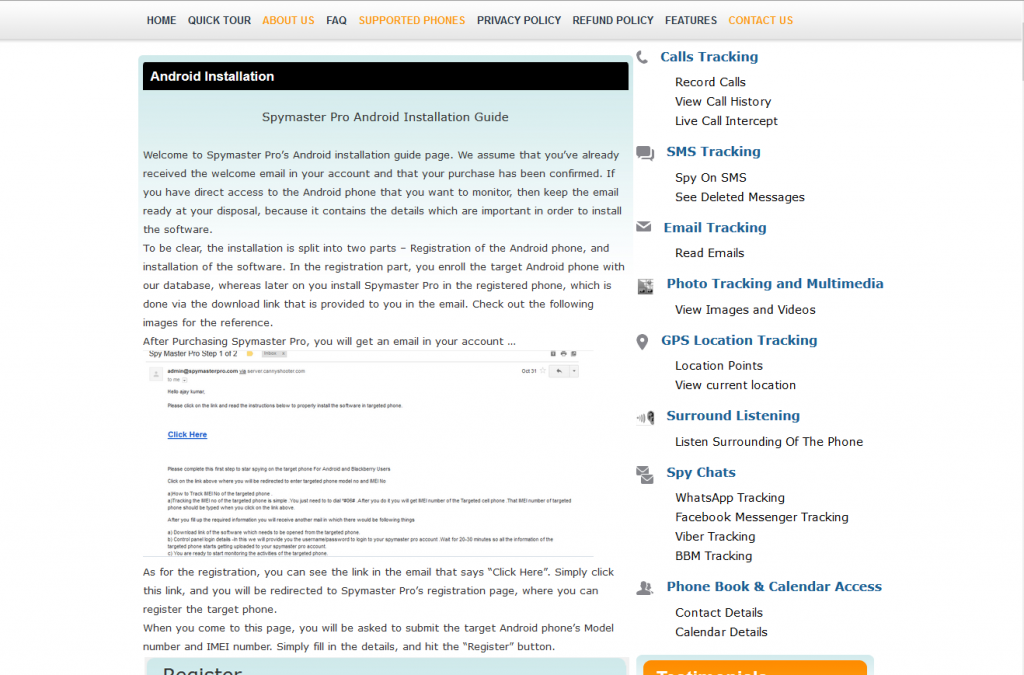 The software is really for Android only as we found out from the Spymaster Pro website. But how can we be sure?

We just look at the screenshots of the installation guide for Spymaster Pro as shown above and the text that accompanies it.

The text states: 'Welcome to Spymaster Pro's Android installation guide page. We assume that you've already received the welcome email in your account and that your purchase has been confirmed. If you have direct access to the Android phone that you want to monitor, then keep the email ready at your disposal, because it contains the details which are important to install the software.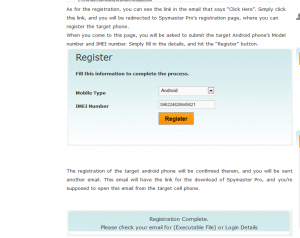 To be clear, the installation is split into two parts – Registration of the Android phone, and installation of the software. In the registration part, you enroll the target Android phone with our database, whereas later, you install Spymaster Pro in the registered phone, which is done via the download link that is provided to you in the email.'

It then mentions that the installation is in two parts, the same as Mr. Follow.
Spymaster Pro only shows how to install for Android.

And below is the email from the Mr. Follow website received after purchase. As you can see the URL is listed for the link and it clearly points to Spymaster Pro and the page shown above.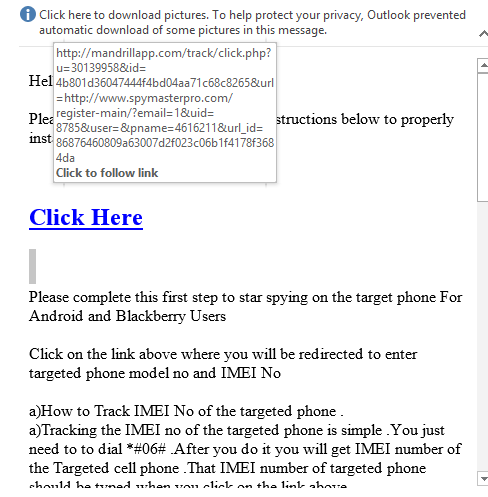 How you can protect yourself in future from scams like this
This is another scam that uses the same technique of advertising fake promises to get people to part with their money, promising to work on nearly all phones and being super easy to install and all the time giving them something that is nowhere close to being what is advertised on the website in the first place.

If you see any spyphone software advertising support for the latest Windows Phone handsets or Blackberry 10 handsets or installation remotely via Bluetooth or IMEI then you should know that this is going to be a scam and you should stay away. If the software sounds too good to be true, too easy to install and such then it usually is and is always going to be a scam.

Spy Phone Review wants to help and wants to hear from anyone who has been burnt by this scam.

If you have purchased the software above or fallen for any website that advertises its spyphone software in the same manner as this then get in touch with us today.

We want to buy back your license from these scam vendors and you can then purchase a FlexiSPY license at a discounted rate and learn how real working spyphone software operates.

SpyPhoneReview is here to help!

Simply head over to FlexiSPY's buy back page which is located here to get started.
Want To See More Cell Phone Monitoring Software Reviews?
If you have any questions or comments about the best phone monitoring app - or if you want to see additional cell phone monitoring software reviews - let us know in the comments below.

Need more information? The FlexiSPY LABS team is happy to help. Contact Us today!