The following table shows our main notes, about how much of a competitive threat TheTruthSpy provide to FlexiSPY, with one star meaning that they can technically be ignored and five stars meaning that they could cause serious problems with our business.
| Positives | Negatives |
| --- | --- |
| Offers a 48-hour free trial | Doesn't capture as many IM's as FlexiSPY |
| Installs itself as Device Administrator | Doesn't offer call interception. |
| Cheaper and more flexible subscriptions | Cannot remotely take camera pictures |
| Online portal works better on mobile devices | Doesn't capture calendar events |
| Online portal supports more languages | Detected as virus once installed |
| | Visible in Application Manager |
| | Keylogger is iPhone only |
| | You don't get all website features |
| | You don't get all portal features |
| | Support staff never actually reply |
| | Software upgrade system needs work |
| | No portal notifications for new data uploaded |
| | Call recordings do not play |
| | Spycall (Auto Answer) does not work |
| | Ambient recordings do not play |
TheTruthSpy is available for both iPhone and Android. For iPhone they only support up to iOS 7.1.2. FlexiSPY supports up to iOS 9.1 which immediately puts FlexiSPY at an immediate advantage. The feature set given for their Android product, which is what we are testing here, is also very limited compared to FlexiSPY.

There are no advanced features call interception that are exclusive to FlexiSPY and their Extreme product, although they do offer a spycall feature which we tested, and this is named the same as the popular FlexiSPY feature in their advertising but changes its name to 'Auto-Answer' inside the online portal.

It turns out that many features shown on the website you don't get and many features listed inside the online portal are not shown on the website either. Immediately then, if you want the advanced spy features, like spycall and call interception, you only have one choice – FlexiSPY – and you don't need to read this review any further.

In what could be a scam tactic, TheTruthSpy seems to split the supported IM services in to a respective package. This means that customers who want to upgrade to the paid version will most likely upgrade to the Premium version to get IM capturing from the likes of Whatsapp.

This is because it looks like only Premium gets Whatsapp capturing. It turns out that you get all IM services supported, regardless of picking Premium or Gold. Both products require root access to get the IM capturing, even though TheTruthSpy advertise Whatsapp for non-rooted devices, it didn't work and we were only able to capture Whatsapp after our device was rooted.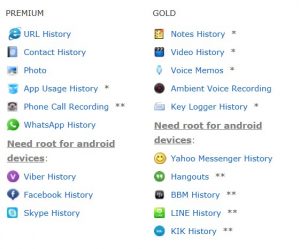 TheTruthSpy Android Spy App Test Summary
FlexiSPY Extreme is the closest product in terms of features offered by TheTruthSpy. It comes in two subscription options, 3 months or 1 year. There is currently no trial version available.

TheTruthSpy offers a free 48-hour trial, which is the Standard plan, and offers two paid plans, Premium and Gold. All plans are available as 1 month, 3 month, 6 month and 12 month subscriptions. FlexiSPY doesn't offer any 6 month licenses and only offers 1 month for its Premium version, not Extreme.
| Standard | Premium | Gold |
| --- | --- | --- |
| Location Tracking | Browser History | Notes |
| Contacts | Contacts | Videos |
| SMS capturing | Images | Voice Recordings |
| | App Usage | Ambient Recording |
| | Call Recording | Keylogger |
| | Whatsapp | Yahoo Messenger |
| | Viber | Hangouts |
| | Facebook | BBM |
| | Skype | LINE |
| | | Kik Messenger |
Because FlexiSPY Extreme is the most favourable to compete against the price of FlexiSPY is far higher than that of TheTruthSpy, however, with FlexiSPY, you are paying to have the most features.

Out of the three packages, several features are exclusive to iOS and so are not available for Android.
Voice Recordings
App Usage
Keylogger
Notes
Video files
What is also interesting is that the feature page on TheTruthSpy website, which is down at the time of writing this, seems to not include several features that are listed inside the online portal.

Below we have compared the entire feature list of TheTruthSpy for Android, based upon what we received with our software, and whether it worked, against the same comparable FlexiSPY product.
| Feature | TheTruthSpy | Did it work? | FlexiSPY Extreme |
| --- | --- | --- | --- |
| GPS capturing | ✓ | ✓ | ✓ |
| SMS capturing | ✓ | ✓ | ✓ |
| Call Logs | ✓ | ✓ | ✓ |
| Call Recording | ✓ | Recording files had no sound | ✓ |
| Spycall | X | Didn't connect as a Spycall | ✓ |
| Ambient Recording | ✓ | Recordings didn't play | ✓ |
| Whatsapp | ✓ | Nothing captured | ✓ |
| Snapchat | ✓ | Nothing captured | ✓ |
| Browser History | ✓ | Nothing captured | ✓ |
| Image Files | ✓ | Captured images on the device only | ✓ |
| Video Files | X | Nothing captured | ✓ |
| Audio Files | X | Nothing captured | ✓ |
| Remote SMS commands | X | Not available | ✓ |
| Facebook Messenger | ✓ | Nothing captured | ✓ |
| BBM | ✓ | Nothing captured | ✓ |
| Viber | ✓ | Captures text only | ✓ |
| Skype | ✓ | Captures text only | ✓ |
| Hangouts | ✓ | Nothing captured | ✓ |
| LINE | ✓ | Nothing captured | ✓ |
| Kik Messenger | ✓ | Nothing captured | ✓ |
| Keylogger | X | Not available for Android | X |
| Contacts | ✓ | ✓ | ✓ |
| Application Usage | X | Not available for Android | ✓ |
| Online Control Panel | ✓ | ✓ | ✓ |
| 100% Undetectable | X | Visible in Application Manager | ✓ |
Can you remotely control TheTruthSpy without their phone?
As with FlexiSPY, you get an online control panel after signing up. Unlike FlexiSPY though, TheTruthSpy provides the portal translated in to nearly every available language. Although we cannot verify the translation accuracy, it's nice to see that they support more languages than just the four that FlexiSPY offer for their online portal.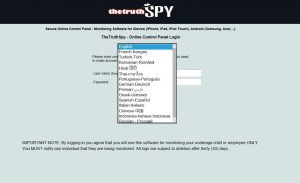 French. This is where FlexiSPY and TheTruthSpy are the same. They both provide the actual software in English only but if English is not your native language then TheTruthSpy is recommended over FlexiSPY simply because of the translated online portal we mentioned.

Another area of interest to look at here is whether the online portal displays on mobile devices or not. FlexiSPY, since their new online dashboard update, doesn't display properly on mobile devices which is a major drawback.

TheTruthSpy, like FlexiSPY, does not have an online portal optimized for mobile devices either, but it displays it at least and is more functional than operating FlexiSPY on a mobile device.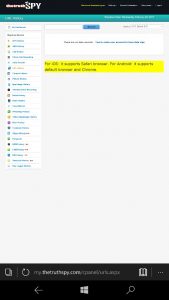 After we had upgraded our license to the Gold version, and the hassle that entailed (read on for more details), whenever we clicked on a new feature we were greeted with this message. We don't believe that TheTruthSpy is this busy, if their servers are this easily overloaded it doesn't bode well for our further testing. This was also another message with poor English grammar.

After we had upgraded, for some reason, the new features that had been added were not turned on by default. That means that you most likely will upgrade to get something like Skype capturing, then find out that it was never turned on by the software.

Like with FlexiSPY, TheTruthSpy allows you to enable or disable capturing of certain features from inside the online portal. When we tested this the changes never took place. That means that despite us paying for an upgrade for extra features we could not enabled them because the server would not apply the changes, even though it said the settings were saved.

One useful feature, which didn't work when we tested it, was that TheTruthSpy claims that it can remotely turn the device internet back on if the device owner has disabled it.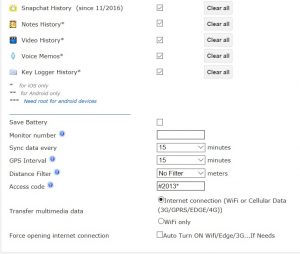 We decided to test this and put our device in airplane mode and then enabled this option inside the online portal. Unfortunately, no matter how long we waited for, the device never managed to turn the internet back on. So, this is one feature of TheTruthSpy that just doesn't work.

As with FlexiSPY, captured media files such as images or videos from the device are stored inside the online portal for you to download. However, for ambient recording, TheTruthSpy plays the audio file directly from the online portal. FlexiSPY doesn't do this and makes you download it. This is the better option because none of the ambient recording files we created with TheTruthSpy played successfully.

On day two of testing, every time we clicked an option within TheTruthSpy online portal, to view captured Facebook Messenger data for example, it always failed.

It turns out that the above message can appear while the device is uploading data to the online portal. An easy way to replicate this is to take lots of pictures on the device and then wait for them to be uploaded. When the upload is in progress, the portal will display the above message. The message will be removed once the upload is complete, even if no new data is uploaded.

We also found that the call recording feature, whilst it does show a recorded file inside your online portal for every incoming and outgoing call, simply created a file that has no audio. That means that all recorded calls have no sound. FlexiSPY gets around this by offering different recording sources to try so that you can find the one that works best for your device but TheTruthSpy doesn't. In not doing that it makes the call recording feature near enough useless for 99% of Android devices.

Lastly, to conclude this section, we want to talk about notifications inside the online portal, or lack of. Basically, if new data is uploaded from a device, there is no actual notification bubble inside the portal to tell you this. The only notification inside the portal is for new features added to your account after an upgrade. If you want to find any new IM messages or call recording or whatever then you must go through each tab in turn and see what's new. This is counter intuitive and very frustrating.
Can you find TheTruthSpy on the phone once it is installed?
When we downloaded TheTruthSpy the download site was reported as a known attack site on the Microsoft Edge browser for Windows. Firefox and Chrome did not flag the download site as malicious and neither did the default browser on Android.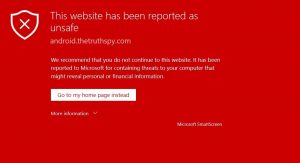 We downloaded the Android APK file and then ran both Lookout Antivirus and Clean Master to see if they flagged the APK file as suspicious. Neither of the applications, after scanning the APK file, did not find it suspicious.

However, after installing TheTruthSpy on to our test device, and granting root permission, both Clean Master and Lookout Antivirus immediately flagged the software as a virus.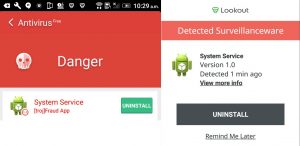 When you install TheTruthSpy it installs itself as a generic Android name with an Android process icon, to avoid any further suspicion, and installs itself as a device administrator so that it cannot be easily removed from the device. Furthermore, even after installing TheTruthSpy, if you don't clear the browser history and delete the APK download file then the device owner can easily find traces of it. These are not deleted automatically and the same applies to FlexiSPY as well.

One advantage that TheTruthSpy has over FlexiSPY is what it installs itself as. It uses a name like an Android system process with the standard system process icon. This is beneficial because it means that whenever the device looks through Application Manager on the device they are less likely to think of it as something suspicious and try to remove it.

In saying that though, any technical Android user will know that system processes are never shown in the Application Manager list of installed applications. So, anything that immediately looks like a system process will grab their attention and they will most likely try to uninstall it. Even though the software installs itself as a device administrator to try to make this as hard as possible it cannot survive a device factory reset.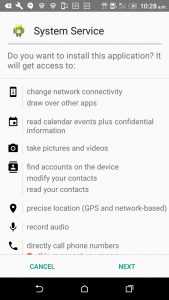 However, even on a rooted device, you can only hide the software icon of TheTruthSpy. That explains why it installs itself as a device administrator, so that it is harder to remove. This sounds good in theory but in practice there are always ways around this sort of thing to get the software removed.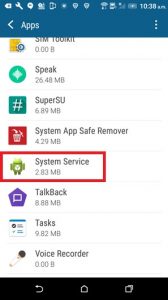 When you compare this to FlexiSPY, which also allows you to hide the software icon, it is FlexiSPY that allows you to additionally hide SuperSU and is also hidden from the Application Manager when installed on to a rooted Android device. But FlexiSPY does not try to install itself as an Android process, nor as a device administrator. This makes FlexiSPY, if visible in Application Manager, much easier to remove than TheTruthSpy.
Does TheTruthSpy cause an increase in battery or data usage?
Below we compare the battery percentage over the course of a typical work day – from 9am until 5pm – with TheTruthSpy installed versus TheTruthSpy removed. During the day, we are using our test device to make calls, send SMS messages and IM messages, browse the internet, watch YouTube videos and play games to simulate typical device use.

For monitoring the battery and RAM usage of TheTruthSpy, we used System Monitor Lite from the Play Store. For data usage, we used My Data Manager. TheTruthSpy is set to capture all data and upload it and GPS location every 5 minutes.

To measure how the device performed without TheTruthSpy installed we monitored the battery usage, RAM and data usage of a typical Android application. In this case, we chose the default Weather application.
With TheTruthSpy Installed vs The TruthSpy Removed

With TheTruthSpy removed we used the device in the same way and recorded the results to see if there was any increase or decrease in battery, RAM or data usage. This data will be compared so that we can see if having TheTruthSpy installed has any significant impact on the device.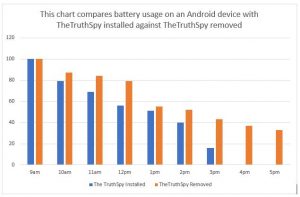 Immediately we can see that there wasn't much decrease in battery life until the middle of the day, when we took the device outside for lunch. During that time, as you do, we were active on social media as well as making calls and playing games more so than when back in the office. Suffice to say, with TheTruthSpy installed, even with less heavy device use, you will notice a quite significant drop in the battery life of the device.

This is something you do not really want if you are creating a spy app and the idea of the app is to not draw attention to itself. So, in conclusion, TheTruthSpy does consume more battery from the device than your average applications.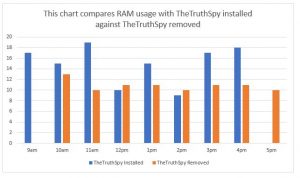 We thought that the RAM usage of TheTruthSpy was high. Even when most of TheTruthSpy's advertised features did not work, it still spent a lot of time doing background tasks that were RAM intensive. This suggests that TheTruthSpy is always capturing data. This was especially noticeable after taking pictures and shooting video. There was a significant delay in saving a picture taken with TheTruthSpy installed, compared to when we had uninstalled it.

So, in conclusion, TheTruthSpy does use up a lot of RAM on the device. On low-end handsets, this would mean a noticeable drop in performance whilst the software is busy capturing and uploading all the data from the device. The performance drop will ultimately lead the device owner to know that something is wrong with their device in some way, most likely resulting in a factory reset.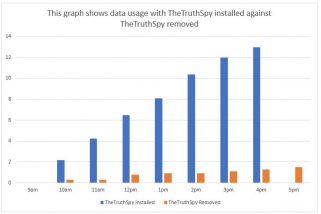 Data usage of TheTruthSpy surprised us. This is because, despite most features not working, there was still a lot of data consumed. We noticed that the data upload and download icon in the notification bar was lit up constantly whilst TheTruthSpy was installed.

So, in conclusion, this suggests that TheTruthSpy is always active and maintains an open connection to the server always, even when data is not being uploaded, which may ensure data is uploaded promptly, but is not economical for the most of us who have strict data plans.
Do TheTruthSpy support staff really solve problems?
In our opinion the answer is no. When we signed up for the trial we immediately wanted to upgrade to the Gold version to ensure that this is a fair comparison. Before we successfully paid for the upgrade we were greeted by a message saying to not open a PayPal dispute if customers were not immediately upgraded.

The text from the screenshot above reads as follows and is copied verbatim:

You already made payment successfully.

If the license is not applied to your account (extend your expiration date) yet, please be patient. It will automatically update your account after some minutes. (Sometimes it takes 15 minutes. It depends on third party companies (PayPal/Avangate…) who need the time to process your order). If you make payment with PayPal.com please do not create a dispute. In stead of that you should request supports at email [email protected] or create a ticket at Help Desk or Control Pal (Tab Resource/Help Desk).

The message, and in fact this spreads to the entire website text, is littered with basic spelling and punctuation mistakes which suggests that its creators are not native English speakers. Even so, for a professional product to have such sloppy text, it did not really fill us with confidence about the overall product.

We were not immediately upgraded and we received an email asking for more information because the email address we signed up for when making an account did not match the email address used to pay for the upgrade using PayPal. There must be many customers out there in the same situation as us.

We emailed their support team, both directly and through the online portal. We received no reply. We gave them an ultimatum that, unless we were upgraded within 24 hours, we would file a PayPal dispute against them, which is justified. The message inside the online portal, asking not to file a dispute, leads us to believe, based upon our own experience, that TheTruthSpy receives a lot of PayPal disputes.

After waiting 48 hours we finally got an email reply from the support team and our account had been upgraded. There was absolute no personality to any of the support emails, it literally was just like talking to a robot each time.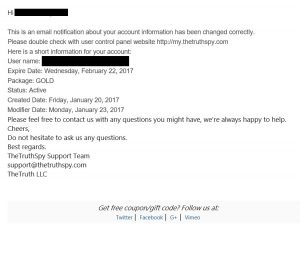 To conclude, and. in all honesty, based upon our testing, TheTruthSpy may advertise a great piece of software but, what you receive falls very short from the marketing words and promises on their website.

Out of all the features we received, after struggling with upgrading, the only features that really worked were the most basic ones that you can get in most apps on the Play Store for free or cheaper than what we paid for TheTruthSpy.

TheTruthSpy support was robotic and only responded after being threatened with a PayPal dispute which leaves us with a sour taste in our mouth and a case of buyer's remorse. The software is also not hidden fully either so it can be easily removed if you have any antivirus software installed on the device as well.
TheTruthSpy Competitor Threat Level: 1 out of 5
What version of TheTruthSpy was tested?
Product Tested: TheTruthSpy Android
Binary Version: 7.12, software version: 1.0
Binary Size: 2.41MB download, 7MB installed
Phone: HTC Desire 816 (Rooted)
OS: Android OS 6.0
The nearest equivalent FlexiSPY product is FlexiSPY Extreme priced at $199 USD for 3 months.