Spy Phone Review noticed an interesting article on the FlexiSPY blog about Mspy and their refund policy and it got us interested to see whether or not Mspy had now changed their refund policy to be less strict and also whether or not other spy phone software competitors were following Mspy and becoming more strict about giving refunds.

We decided to take the refund policies of the main spy phone software companies, FlexiSPY, Mspy, StealthGenie, Mobile Spy, Highster Mobile and Mobistealth and dissect them to see just what all the refund text actually says.

From the research we did for this article it seems now that most spyphone software competitors (all except one – read on to find out who) are becoming more and stricter with their refund policy which means that you really have to read the small print before you make a purchase.

Spy Phone Review understands that spy phone software is not easy to set up at all and can be technical in nature, for example, there are many prerequisites.
You need the phone you want to spy on physically in your hand for installation
Installation time can vary depending on software and level of technical knowledge of the person installing the software
Additional work such as jailbreaking (iOS) or rooting (Android) may be required before you install the spy phone software
These are probably the main issues that people face when looking for authentic and legitimate spy phone software that works instead of falling for yet another scam and whether or not the spy phone company is upfront about these requirements before you buy (e.g. through a live chat conversation) or hides it completely tells you a lot about the company and the kind of refund policy they have in place.

In the table below the most popular refund reasons for spy phone software are listed and it shows who really refunds you and who just takes your money.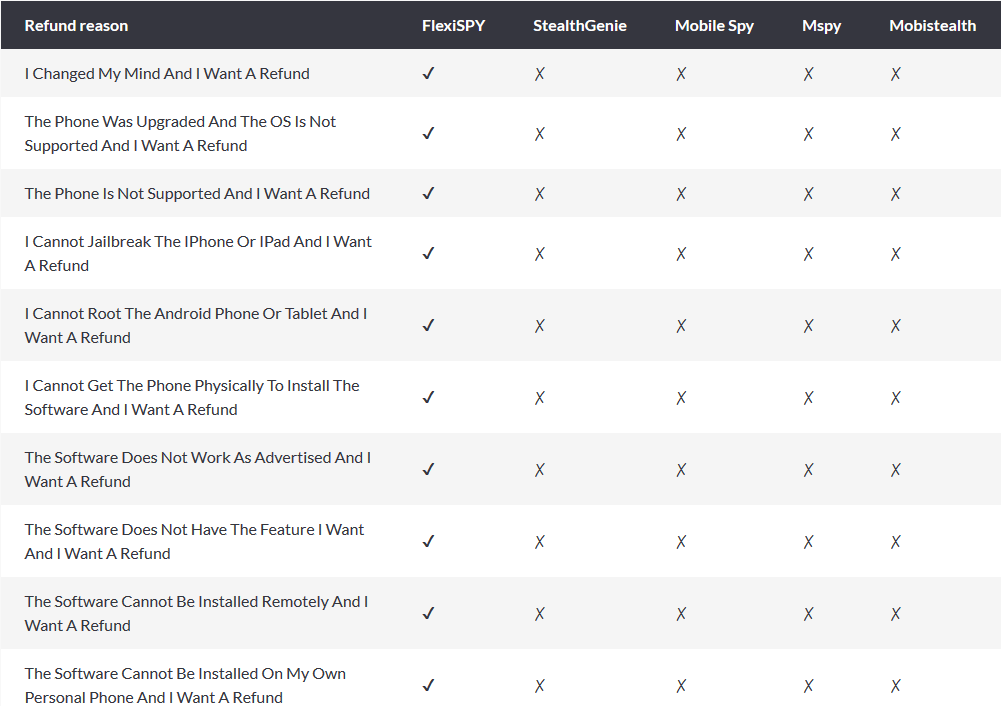 As you can see from the table above FlexiSPY gives you the best refund policy when compared against any of its main competitors. To top it off all other competitors offer a '100% money back guarantee' which actually works out to be 0% if you go through all the terms and fine print because, except for FlexiSPY, all spy phone companies put the onus on the customer and blame them for the reason that they may need to be refunded and subsequently there refund policy conveniently does not cover such reasons.

However, it gets worse.
No refund for any reason and it's all your fault
Companies such as StealthGenie will not refund you fully at all and will retain some of your money if, for example, you change your mind. This is very unfair because many customers who are new to spyphone software may not know much about technology or smartphones and so they may make the wrong purchase decision – StealthGenie, Mspy and the rest don't care, your money is theirs and you will get no refund.

Look at Mobile Spy for example. Their refund policy is extensive and basically just says that once you have bought you cannot be refunded back in any way at all unless they deem it a software fault. This means that, for example, you purchase Mobile Spy but the phone is not compatible (not everyone can get immediate access to the phone they want to track to get this information) it means that you won't get getting a refund back from them.

StealthGenie, Mobistealth, Highster Mobile and Mspy all operate the same policy. Anything that stops the software from working which is caused by the user (phone is updated, phone is factory reset) makes the refund null and void. Customers should not be held responsible if the phone is upgraded by its owner or if there is no iOS jailbreak available for example or they cannot root the Android device.

FlexiSPY understands that the customer may have difficulty installing or the phone is upgraded and that is why FlexiSPY don't blame the reason for refund on the customer and instead understand that sometimes, despite all the trying, sometimes things just do not work out which is why FlexiSPY has the most flexible refund policy when compared against any other competitor.
They are going to take your money and run
StealthGenie in particular specialize in partial refunds. This means that basically, even if you do manage to get them to refund you it won't be for the full amount that you originally paid. StealthGenie will always keep a partial amount for any user error such as if the phone is upgraded to the latest OS (completely out of control of the StealthGenie customer) then StealthGenie keep 25% of the price you paid. What is worse is that if you want to use their Android software but refuse to root the phone then StealthGenie will keep 40% of the price you paid regardless.

Mspy is a little different but still strict. If you purchase one Mspy subscription and then, later on, purchase another, the refund policy applies to the first subscription only. The second one cannot be refunded back in any way. Again, as a recurring theme, if the phone is upgraded in any way or cannot be jailbroken or rooted then no refund will be given. Mobistealth will not refund you if you did not realise that you needed the phone you want to track physically and the same applies in terms of the phone getting upgraded or formatted, no refund.

Mobile Spy recently updated their refund policy and it is now watertight. So, if you are looking for spyphone software you can try with the comfort of a refund window then Mobile Spy is not it (neither is Mspy, Mobistealth or StealthGenie) but Mobile Spy is now exceedingly strict. Anything that is not a software fault will result in no refund. Furthermore, because of this, Mobile Spy gives you no refund window after purchase so you need to be 1000% sure that the phone you wish to track you can get and is supported otherwise you will not get any refund if it is not correct.

FlexiSPY instead understands that spyphone software can be technical and complex and this is why they offer a refund for any reason at all as long as they are notified within 10 days after purchase. Even then, if you encounter technical issues with FlexiSPY during the 10 day refund policy they will extend the refund window as long as you agree to work with them to solve any issues you may be having.

FlexiSPY realises that the phone you wish to track may not be compatible, may be formatted or may need to be jailbroken and rooted and that is why their refund policy is the most lenient and why they are the only spy phone software to actually help you with Mobistealth, Highster Mobile when all others turn you away and ask you to research and perform it yourself. Perhaps, most importantly, FlexiSPY are actively trying to get customers to switch from competitors who offer strict refund policies and fewer features to their own software using their buy-back program which means you can trade in your existing license from a competitor (perhaps you don't like it anymore because you refuse to be refunded?) and get FlexiSPY which, as you have seen here, provides the best refund policy when it comes to spyphone software.
Read the website thoroughly and research the phone and software first
Many spy phone companies omit information from their website to make the software sound more attractive and appealing to prospective customers. After all, if customers knew what Android rooting involved and the fact that it must be done to capture things like Facebook or LINE or to listen to live calls then they would be too scared to buy.

Similarly many customers do not know or understand technology enough to realise that the spy phone software has to be installed physically on to the phone you wish to track. Instead many people believe it is like they see in movies or on TV or like scam sites say when you can spy on people using their phone number, IMEI number or any way that does not requite that person needing the phone they want to spy on physically in their hand first to get started.

So always take a look at the FAQ section to see just how honest spy phone companies are. If they do not even have a FAQ page then immediately that tells you all you pretty much need to know about the kind of company and software you are looking to purchase and it usually turns out to be a scam.

Out of all the competitors FlexiSPY provides the most comprehensive FAQ when compared to all other competitors and you can spend a few minutes reading all of that to get the sense that FlexiSPY cares about their customers and wants to be as open and honest about their software and what they are buying which is more than can be said of their competitors and this makes FlexiSPY more trustworthy which further reinforces that they have the best refund policy with the customer in mind – not themselves.
Be smart, choose the spy phone software with the best refund policy
Spy phone software can be technical and complex. There are so many things you have to check before you take the plunge. Most notably you have to make sure that the smartphone you wish to track you can get physically and it meets the compatibility requirements.

Unfortunately people may not know how to get this information or they may be too tempted from what they read on the vendor website which may omit the requirements to make the software sound really easy to install and is compatible with all phones.

Be safe and choose the spy phone software you can trust.

Do you research first and make sure you can get their phone long enough to install the software (it cannot be done just whilst they are 'in the shower') and set aside some time (at night is best) to really study the instructions and make sure their phone is compatible and meets all the requirements before making any kind of purchase.

If they offer a free trial then go for that first so at least you can determine how to install and whether or not the phone you wish to track will work before you spend any money.

From what we have researched and learnt FlexiSPY offers the most flexible refund policy.
Up to 10 days after purchase a full refund can be given
Refund policy is extended longer than 10 days if customer has issues they allow us to work with
Any reason at all is accepted as a refund reason as long as we are notified within the first 10 days after purchase
The 10 day refund policy will be extended as long as the customer agrees to work with FlexiSPY to solve the problem
And it is this refund policy and comprehensive feature list, assistance with jailbreaking and rooting, a free trial and the option to buy back your competitor license that makes FlexiSPY the most attractive and most powerful spy phone software available on the market.

Have you been the victim of spy phone software refund fine print?

Did you manage to get a refund or not?

Let us know in the comments, and remember, based upon our research, if you want to get the best refund policy you can trade in your current spy phone software license from a competitor to FlexiSPY you can do so here.